CharterS with

reef unlimited
Looking for something a little more exclusive and VIP?
Or do you need more flexibility in your itinerary?
Chartering one of our fast motor catamarans to explore the region can be a cost effective and convenient alternative to scheduled tourist services.
Your charter vessel provides total flexibility with regards to destination, itinerary and inclusions which we can tailor to suit your activity level, time frame and budget.
Whether it be a Great Barrier Reef charter, an Island adventure or a calm water cocktail cruise, we have the expertise and resources to suit.
Exclusive Reef Experience

Swim, snorkel and dive in safety off of iconic coral beaches, exploring one of the 7 Wonders of the world. Full or half day options are available.
Licensed bar onboard

Whether it be enjoying the hot and cold lunch buffet, or sun bathing aboard our deck, do it with a drink in hand. Come celebrate with us!
A cruise for all occasions

Suitable for all occasions our vessels can cater for up to 90 guests for a sit down dinner and up to 250 guests for a cocktail style function.
Tailored to suit you

Let our experienced event manager tailor a cruise to meet your individual requirements, schedule and budget.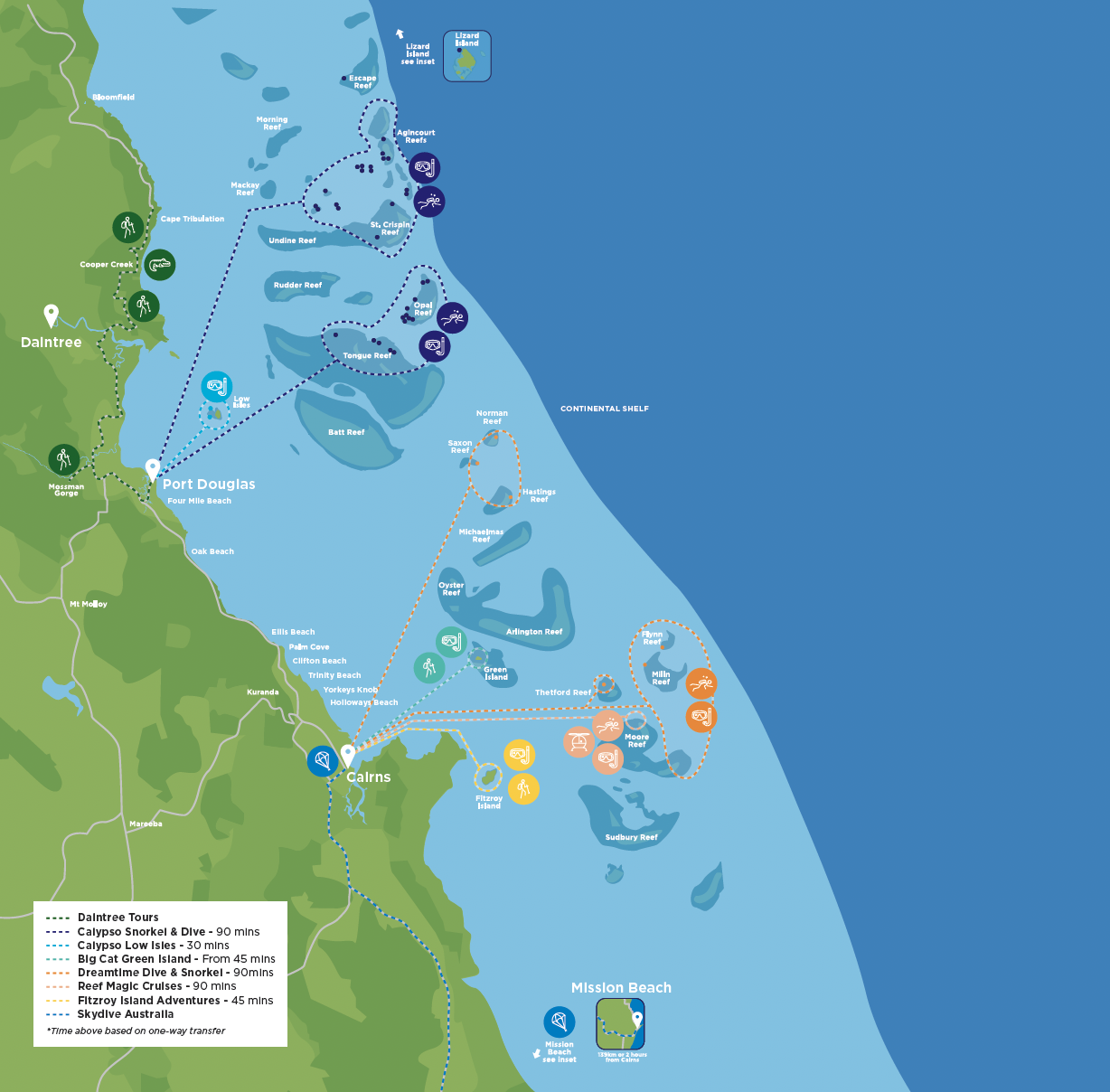 DEPARTING FROM


CAIRNS

AND


PORT DOUGLAS
Reef Unlimited vessels charter to tropical islands and the outer barrier reef from Cairns and Port Douglas.
To discover the charters and experiences available from each location, select your preferred site below.
FIND THE PERFECT EXPERIENCE FOR
Y
OUR CHARTER
Explore our various experiences below to discover a charter that is perfect for you!
Whether you are booking for a business or private event,
we can tailor each adventure to your needs.
Reef Magic
Experience a coral reef teeming with life from a private pontoon on the Great Barrier Reef.
Go to Reef Magic

GREEN ISLAND
Visit Green Island on Big Cat and enjoy the tropical rainforest, amazing array of coral and relax on sandy beaches.
Go to Green Island

FITZROY ISLAND
Only a few kilometres from the mainland, this lush tropical island is surrounded by gorgeous fringing coral reefs.
Go to Fitzroy Island

DREAMTIME DIVE AND SNORKEL
Embark on a cultural journey with Dreamtime Dive, where you will discover unique dive and snorkel sites with our Indigenous Cultural Guides on the Great Barrier Reef.
Go to Dreamtime Dive

DAINTREE TOURS
Depart Port Douglas and spend a day in the tropical region of the Daintree, including a cruise up the river and exclusive access with our small group guides.
Go to Daintree Tours

LOW ISLES
Just a short boat ride from Port Douglas, this tropical coral cay is surrounded by reefs teeming with marine life!
Go to Calypso Low Isles

CALYPSO REEF TOUR
Explore the wondrous spectacle that is the Great Barrier Reef. Departing from Port Douglas visit three amazing dive and snorkel locations on the reef.
Go to Calypso

TREETOPS CAPE TRIB
Discover the Daintree with our zipline tour in Cape Tribulation! Climb through the trees, and see the beauty of this ancient rainforest from new heights.
Go to Treetops

CHOOSE YOUR OWN ADVENTURE
Create a tailored adventure for your charter, our events team can create custom experiences that suit your dream charter, just get in touch and tell us what you need!
Learn More

WHAT THEY'RE SAYING ABOUT US...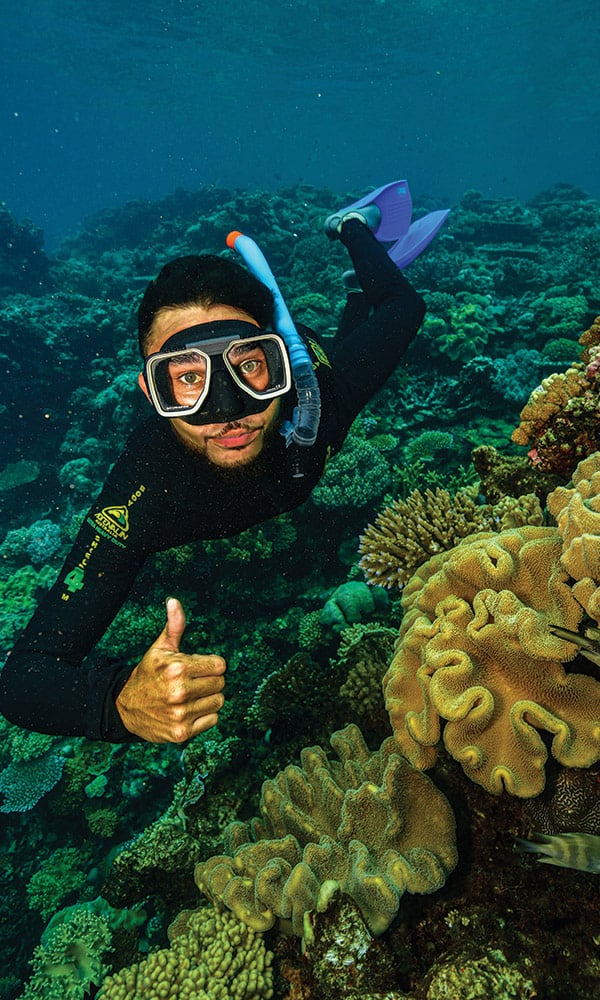 REEF MAGIC - PRIVATE CHARTER
"Thank you Jacqui and Monika for helping us create a wonderful event with you. We all had an amazing time and could not have hoped for more. Please pass on our thanks for the cultural guides - it was fantastic to hear and see young men enthusiastically sharing their culture with a genuine attitude. And while still making us all laugh and smile. We are so glad we chose this option.
Also to the crew abroad that day, they were extremely helpful and efficient to work with.

We also cannot more highly recommend the lunch option - many said this was the highlight meal of the week !
George Cummings
Workplace Experience Manager at BuildKite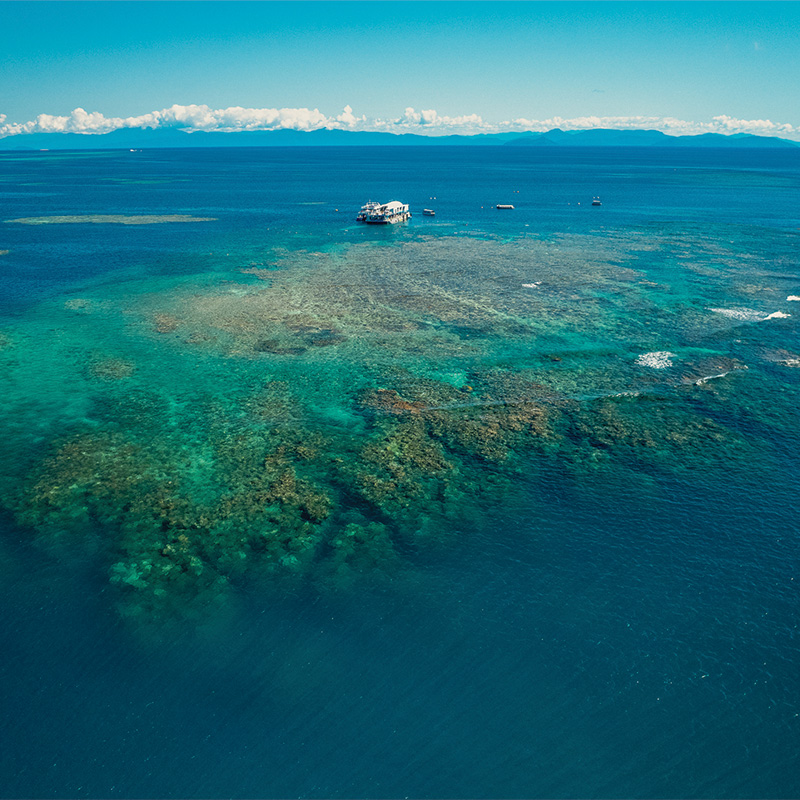 CAIRNS

REEF MAGIC

Charter our state of the art pontoon, the newest and most technologically advanced pontoon! The pontoon has everything you would need for an event, including a bar, a sun deck, a marine biology lab, underwater observatory, diving moon pool, underwater helmet diving platform and so much more!

Learn more about Reef Magic

CAIRNS

BIG CAT GREEN ISLAND

Explore Green Island, a tropical island paradise on the Great Barrier Reef and approx 45 minutes off the coast of Cairns. Our modern, air-conditioned catamaran offers full and half day cruises departing daily. Activities at Green Island include snorkelling, glass bottom-boat tours, a buffet lunch and relaxing on white sandy beaches.

Learn more about Green Island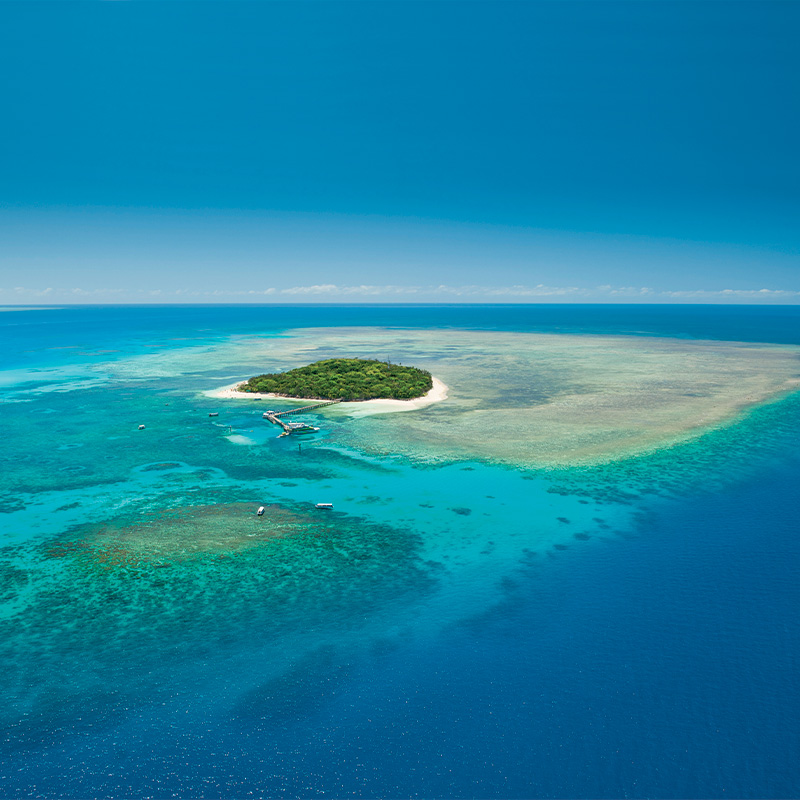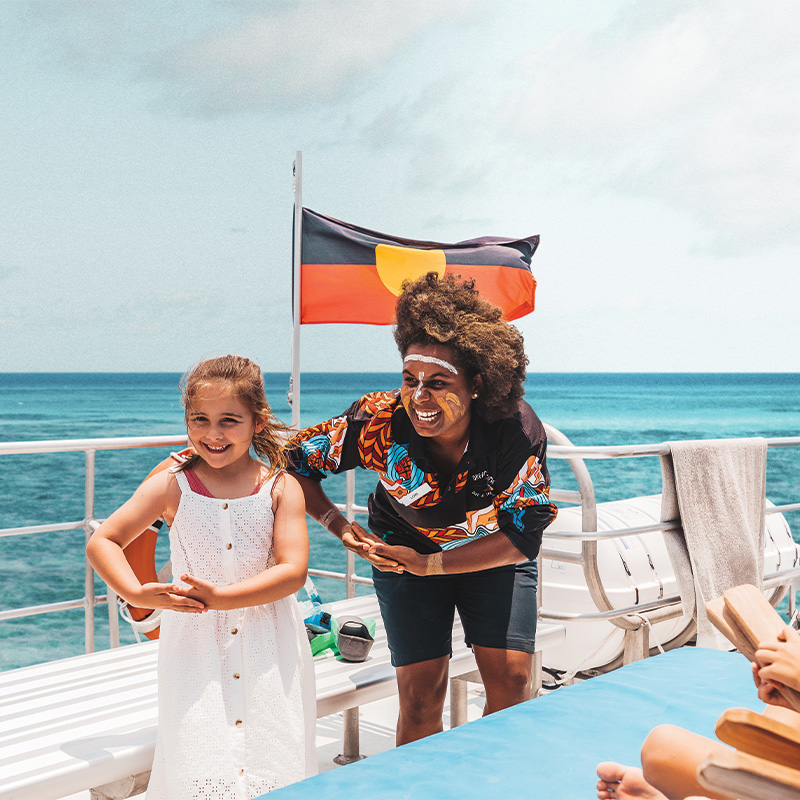 CAIRNS

DREAMTIME DIVE & SNORKEL

Dreamtime Dive & Snorkel is a premium diving and snorkelling experience on the Great Barrier Reef. Incorporating the world's oldest living culture and the stories Traditional Owners have passed down over the tens of thousands of years.

Learn more about Dreamtime Dive

CAIRNS

FITZROY ISLAND

Fitzroy Island, once part of mainlaind Australia, this spectacular island is easily accessible from Cairns and features an array of beautiful natural features – such as an immense range of marine life and coral species – that make visiting a dream. The island is largely untouched and protected as Fitzroy Island National Park, with walking tracks through the rainforest, heathland and open forest to Nudey Beach and the Summit.

Learn more about Fitzroy Island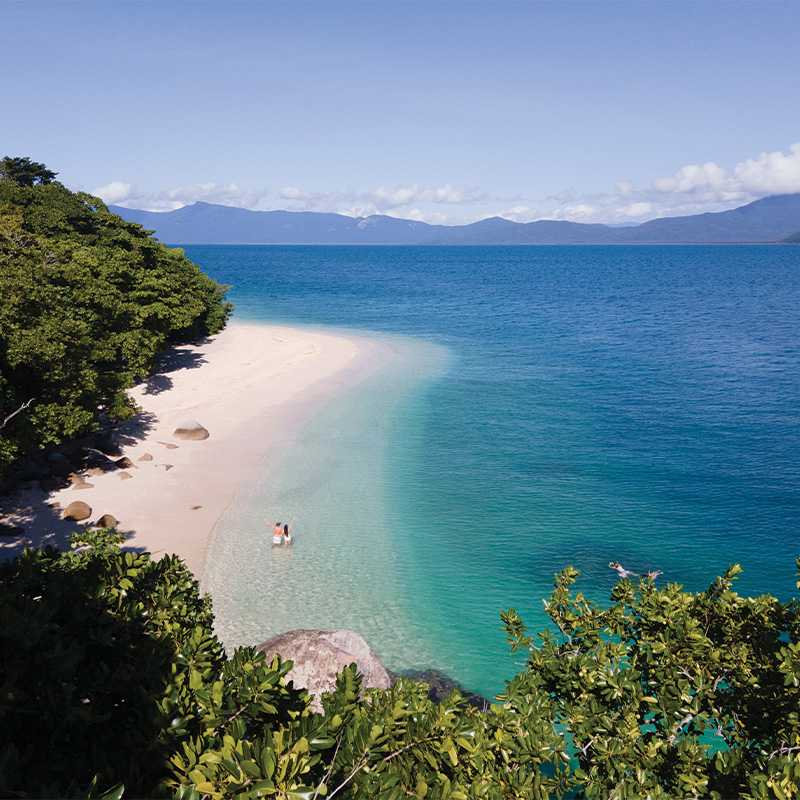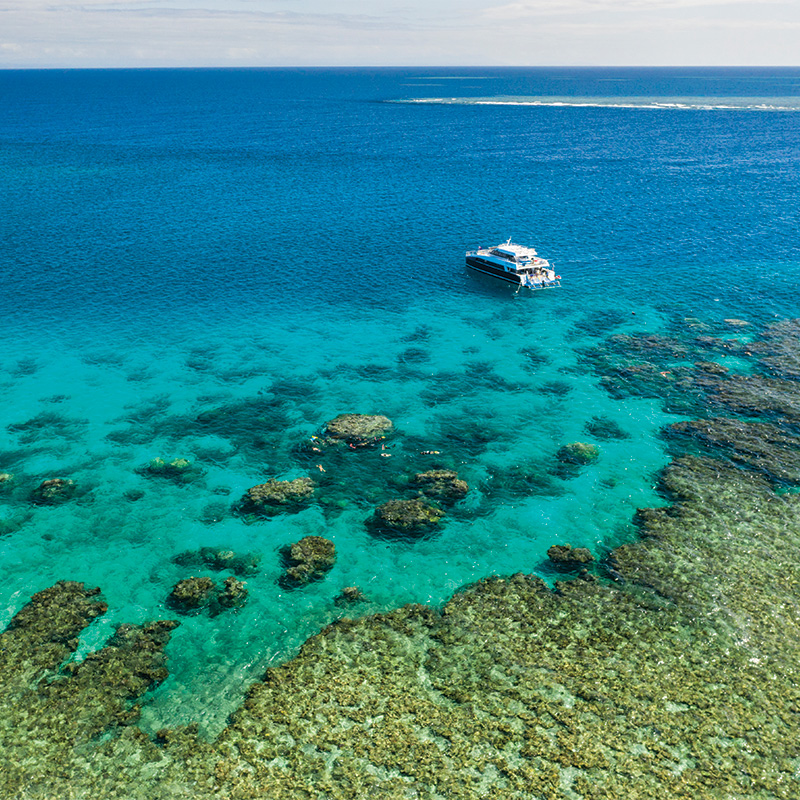 PORT DOUGLAS

CALYPSO REEF CRUISES

Explore the very outer Great Barrier Reef in comfort and style with Calypso. Custom designed vessels, offer the very best in comfort with spacious decks, day-bed style seating, air-conditioned saloons and submerged platforms, allowing for easy in-water access. Visiting 3 reef sites, with snorkel and diving opportunities at each.

Learn more about Calypso Reef Cruises

PORT DOUGLAS

CALYPSO LOW ISLES

Calypso also offers snorkelling experiences at the secluded island of Low Isles, at the best times of day, either early morning and afternoon. Perfect as a half-day experience, guests can explore the coral reef and tropical island without the crowds. With daily departures, this is the perfect half day tour.

Learn more Low Isles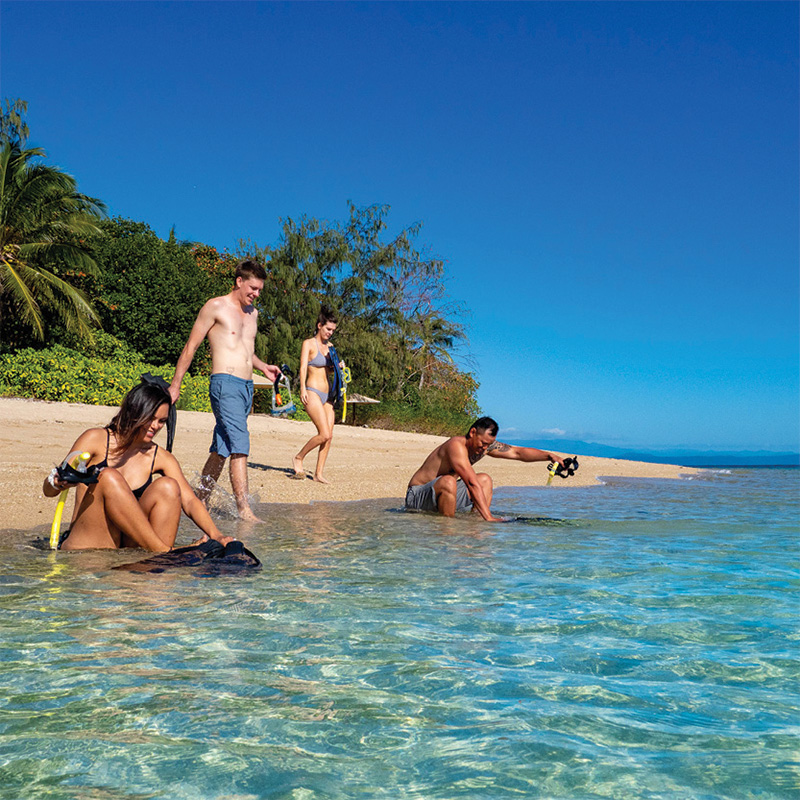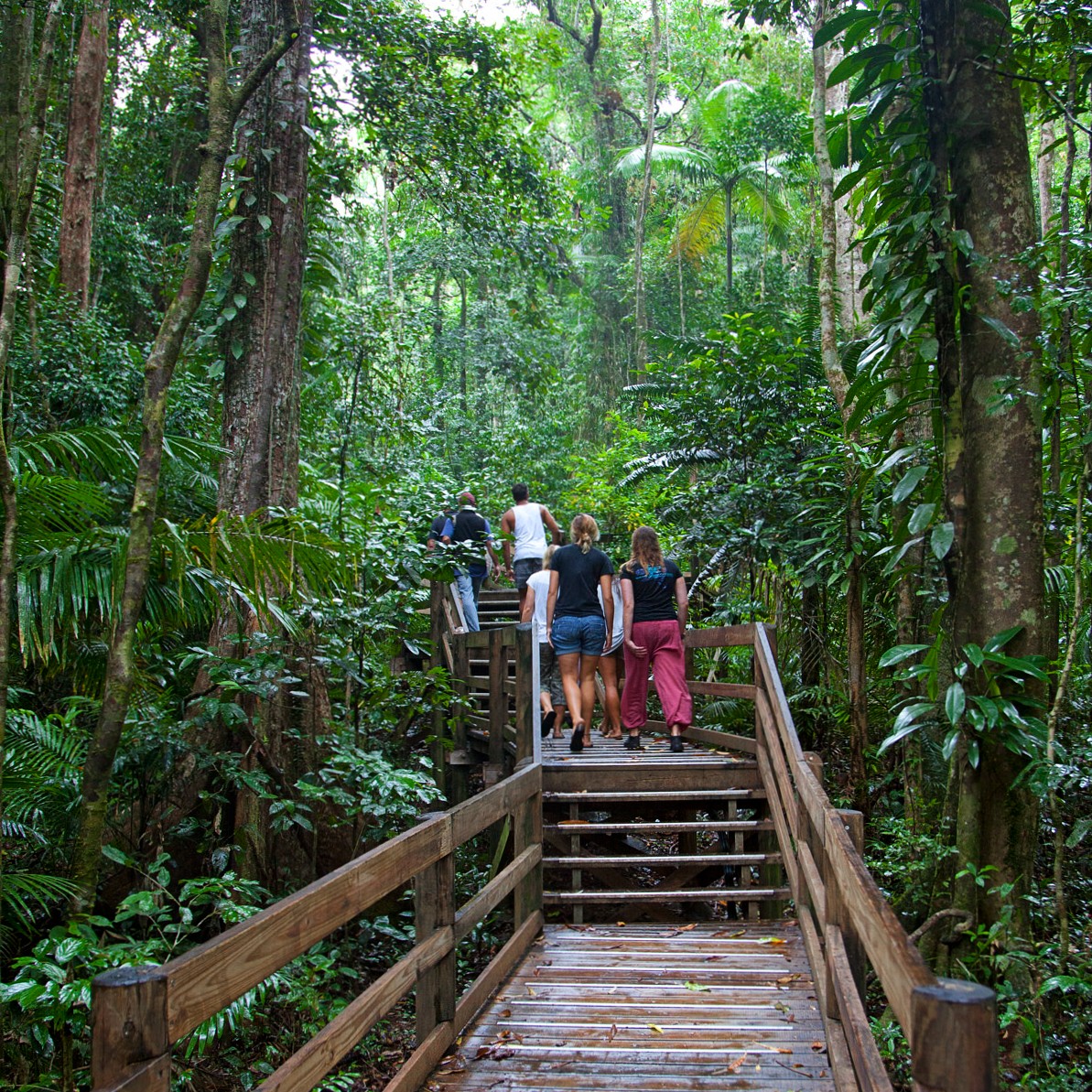 PORT DOUGLAS

DAINTREE TOURS

Explore the ancient rainforests of the Daintree with a luxury tour from Daintree Tours. Showcasing some of the highlights of this incredible natural wonder, with visits into the Daintree National Park, Mossman Gorge and a river cruise exploring the waterways rich in flora and fauna. With smaller groups, this full day tour is perfect for those looking for an immersive experience.

Learn more about Daintree Tours

CAPE TRIBULATION

TREETOPS ADVENTURE

Soar through World Heritage Rainforest with Treetops Adventure! The tour comprises of ziplines spanning between 15m - 130m and a treetops walk made from suspended nets and wooden bridges. Along the way, our guides will share their knowledge of the rainforest and our construction techniques. A spectacular dual zipline completes the tour.

Learn more about Cape Tribulation